Aiding the energy transition
Offshore wind power is a strategic vessel segment for Eidesvik, and by delivering our shipping services to both the commissioning and service phases of offshore wind farm farms we are building experience and strengthening our presence in this growing and future oriented market.
In 2015 offshore wind was sanctioned as a strategic market for Eidesvik and our fourth vessel segment. The following year we entered this market with the OCV Viking Poseidon. Vessel and crew performed accommodation duties for Siemens Wind Power and by the end of same year we had two vessels in operation in the renewable sector.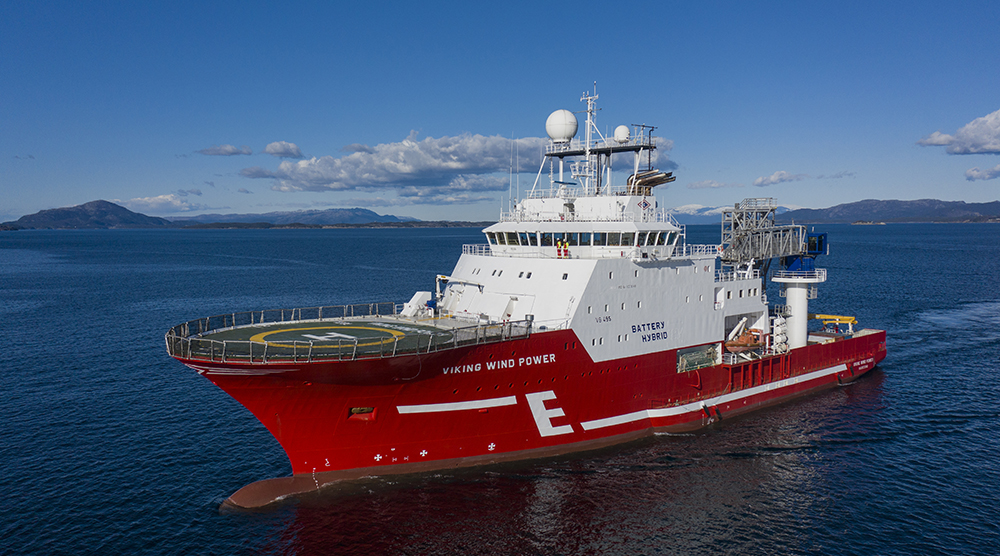 We further strengthened our presence in offshore wind by converting our survey vessel Viking Wind Power to a service operation vessel. Since 2016 we have delivered our vessel services to Siemens Gamesa and assisted on both the Sandbank and Veja Mate offshore windfarms in the German sector. Years of operation on the Veja Mate project has given us valuable insight into the offshore wind 'way of working' during the operation and maintenance phase of an offshore windfarm's lifecycle.
Our OCV Viking Neptun scored its first assignment in this segment in 2017, when the vessel served as an accommodation and service operation vessel for Adwen GmbH on their Wikinger windfarm campaign. The year thereafter Viking Neptun was selected by Merkur Offshore GmbH to assist during the commissioning phase of the Merkur Offshore Windfarm, providing an interesting work scope for a client we connected well with both on and offshore. Yet again we learned from our clients and adapted to the various vessel needs in the different phases of an offshore windfarm lifecycle.
In Q1 2023 our IRM vessel Subsea Viking commenced on a five-year contract for another international player in the offshore renewables market, Van Oord Offshore Wind B.V.
We are gaining momentum in the exciting field of offshore wind. We keep learning from and adapting to our clients every day.