With a license to operate
By taking an active role in shaping his career, 20-year old Nils-Erik Lønning is a role model for all young people entering professional life. In September, he obtained an Offshore Crane Operator certificate and became the youngest crane operator in the company's history.
Among Eidesvik's many skilled employees, we find a young man whose initiative and hard work has impressed many of his colleagues.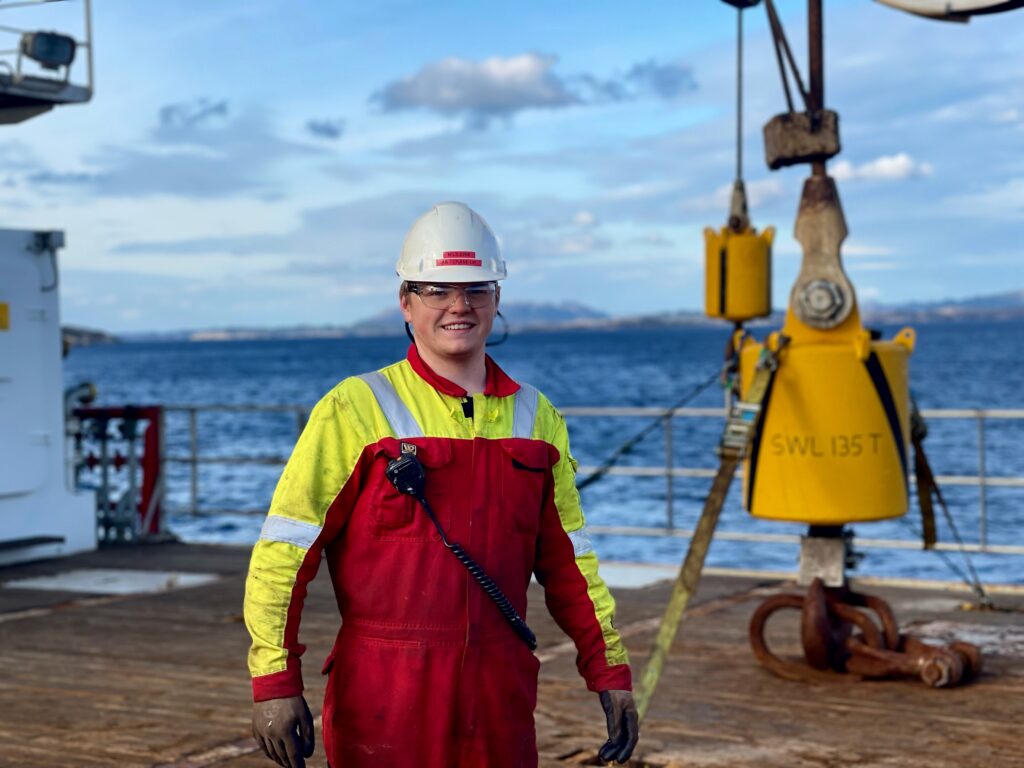 After two years of studying technical and industrial production (TIP) and maritime subjects on board the school ship MV Gann Nils Erik Lønning started as a trainee onboard Viking Energy in 2019. In June 2021, he gained a certificate of apprenticeship as an Able Seaman.
– Although I do not come from a family of seafarers, I have always wanted to work at sea. Being born and raised in Langevåg, not far from the Eidesvik headquarters, I have always felt a relation to the company. When looking for a position as deck trainee, Eidesvik was a natural choice for me, Lønning says.
With a father running a construction company, Lønning was introduced to heavy duty machines and hard work at a very young age. Thus, it was no surprise that his apprenticeship revealed a special interest for machines, and Lønning developed a plan to ensure his career journey caters to his interests.
An example to follow
As a first step, the young sailor requested a transfer to a vessel that is equipped with a crane.
– The company offered me a stay on SURF vessel Viking Neptun where it immediately became clear to me that Crane Operator was the career path I wanted to take, he says.
In his spare time, Lønning completed the crane operator theory module. When he presented a proof of completion to the company, his initiative was soon rewarded. After short stays back on Viking Energy and on Viking Princess, Eidesvik arranged for him to spend the last six months of his apprenticeship onboard Viking Neptun. Here he was allowed to gain sufficient working hours as a crane operator to qualify for the G5 Offshore Crane Operator practical exam.
– Development of our people is a key focus area in Eidesvik. It is impressing to see how Nils-Erik at such a young age have taken an active role in developing a career path for himself. I think he is an example to follow for all young people planning a maritime career, says Vice President HR & Organisational Development in Eidesvik, Erling Lodden.
In September, Nils-Erik successfully passed the practical examination and he is now part of Eidesvik's resource pool of crane operators. His first assignment has already commenced on IMR vessel Seven Viking.
– I believe it is unique that Eidesvik has been willing to facilitate for a young trainee to gain experience as a crane operator. I am very grateful to the company, the crew on board Viking Neptun for the support and practical training, and to the crew onboard Seven Viking for facilitating the final certification, Nils-Erik says.
We congratulate Nils-Erik with a license to operate and wish him the best of luck!