Viking Energy with ammonia-driven fuel cell
Following the installation of an ammonia-driven fuel cell system in 2024, Eidesvik Offshore's Viking Energy will become the world's first supply vessel to sail long distances without emissions of greenhouse gases. Testing will take place while the vessel is on contract for Equinor.
After 17 years of continuous sailing for Equinor, the energy company has awarded Viking Energy with five new years of service in the North Sea. In addition to providing important work for vessel owner Eidesvik Offshore, the contract also triggers a ground-breaking R&D project to test zero emission technology on board the Viking Energy.
A fuel for the future
"Together with Equinor, we are now launching a full-scale research project to test a propulsion solution based on fuel cells running on pure and emission-free ammonia. The goal is to install fuel cell modules with a total power of 2 MW on board Viking Energy in 2024. This will make the vessel the world's first emission-free supply vessel," says Jan Fredrik Meling, CEO of Eidesvik Offshore.
In the shipping industry, hydrogen and ammonia are considered the two main zero emission fuel candidates for future shipping. Today, many believe that ammonia represents the best option for longer voyages, such as the North Sea supply routes, where ships need to carry large amounts of fuel.
"In the industry, ammonia is reckoned a major part of the solution to reduce the climate footprint from offshore traffic and other shipping segments. We also share that view," says Vermund Hjelland, Vice President of technology and development at Eidesvik Offshore.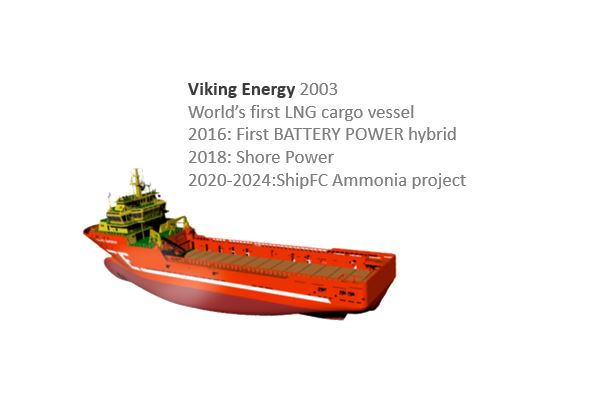 Five-year project
The other main partners in the five-year research project are Wärtsilä, supplying the power technology and systems for ammonia storage and distribution, Prototech, supplying the fuel cell system, and NCE Maritime CleanTech, coordinating the project towards the European Union.
"Eidesvik and Wärtsilä have had a particularly close industrial collaboration for a number of years. Wärtsilä has provided technology solutions throughout Eidesvik's development stages, from LNG in 2003, via fuel cell and hybrid solutions, and up to today's focus on ammonia. The collaboration with Wärtsilä has been very important in getting to where we are today," Hjelland confirms.
The ammonia research on Viking Energy has a total budget of 230 MNOK, of which a significant part is financed with EU funding. The partners also have good dialogue with Innovation Norway and Enova, from which they expect further support.
"As part of the testing, the vessel will use ammonia in transit between harbour and offshore installations for one year. In addition, we envisage that ammonia will be used to power the vessel when alongside quay. Our ambition is that 60 to 70 percent of the energy consumption will come from ammonia during the test period. In addition, we want to demonstrate that the technology can supply up to 90 per cent of the total power demand," Hjelland elaborates. He adds that the remaining energy consumption on board will be powered by LNG, which has been Viking Energy's main fuel since 2003.
Important contribution from Equinor
Shipowner Eidesvik has always had a clear vision of burning as little fossil fuel as possible and has been a pioneer in implementing new environmental technologies in both newbuilds and existing fleet. With its current focus on ammonia, the company is a front-runner for zero emissions, and having Viking Energy as test vessel was a natural choice. Not only was she the world's first supply vessel powered by LNG when delivered in 2003. In 2016, the North Sea workhorse also became the world's first hybrid supply vessel with class notation "Battery Power" from DNVGL.
"Equinor has made a major contribution to these milestones by contracting "Viking Energy" for a total of 22 years. They were with us when we invested in LNG, later when we put in the battery, and now when we are going for ammonia. Eidesvik is very pleased that Equinor has a clear desire and willingness to contribute to the development of a cleaner and more environmentally friendly shipping and offshore industry. The fact that the company chose Eidesvik and Viking Energy as shipping partner and test vessel in this project, says a lot about the cooperation we have had all these years," says Meling.
"Evolution takes time"
A recognition that development work takes time has always been fundamental in Eidesvik's long-lasting focus on research and new technologies.
"It was not Apollo 1 that landed on the moon, it was Apollo 11. A long-term development program was behind that achievement, and the same goes for us," Jan Fredrik Meling points out.
"The ammonia project on Viking Energy would not have been possible without the research and testing we have done previously, nor without the commitment and efforts of our sailors. The Fellowship project on board "Viking Lady" from 2009 to 2015 is one of the pillars. There we tested both fuel cell technology and battery pack, along with Wärtsilä and DNVGL. Technology which then was at the research stage has now become a "shelf item", and today several oil companies are demanding battery packs in their tenders. We are happy and proud to have contributed to making new solutions available for everyone – much to the benefit of a more energy efficient and environmentally friendly shipping industry," says Hjelland.